Macaroni Recipe
Quick, Easy And Absolutely Delicious
This macaroni recipe looks stunning and is full of the fresh flavours of the Mediterranean.
We love the combination of colours that this dish produces - the black pasta just sets it off. If you can't get black just use whatever is available - it still looks and tastes great. Or have great fun making your own fresh pasta and use this sauce.
A perfect quick and easy vegetarian recipe...or you can add a little diced Italian sausage if you like.
Why not include this in your own Mediterranean diet it's healthy and full of goodness.
Eat well - feel full and satisfied and lose those excess pounds without undue effort.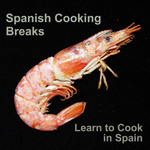 New!

We're proud to announce our:


Spanish Cooking Courses

.




Come and stay with us in a great garden apartment on Spain's sunny Mediterranean coast.




<<<<

Click on the photo to find out more.




Learn to cook and Experience the real Spain.




Search the Site from here: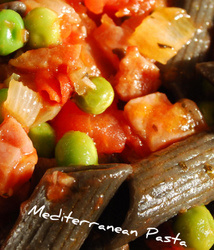 Macaroni Recipe Ingredients For 4 People
300g/10oz black macaroni or pasta of your choice
2 tablespoons extra virgin olive oil
1 large onion finely chopped
3 cloves garlic, bashed
1/2 kilo/1.1lb ripe tomatoes cut into small dice or a 16oz can of chopped tomatoes
1/4pt/1/2cup strong vegetable stock

The zest and juice of a lemon
2 small dried chillis ground in a pestle and mortar
2 tablespoons tomato purèe
100g/3oz frozen baby peas
A bunch of basil, roughly chopped

Salt and ground black pepper to taste







New Feature

: Printer Friendly Recipe Pages for your convenience.



CLICK HERE TO PRINT



Method


Cook the pasta according to the packet instructions.
Heat the olive oil in a largish skillet or frying pan over a high heat.
Add the onion and cook until starting to colour stirring really well all of the time.
Turn down the heat and continue cooking until the onion is soft and browned.
Add the garlic and cook for 2-3 minutes.
Now add the tomatoes, stock, lemon zest and juice, chilli, tomato purèe and some seasoning.
Turn up the heat to high again, and allow to bubble, stirring regularily for about 8 minutes, until all the ingredients are cooked and the sauce has reduced and is quite thick.
Add the peas.
Bring back to the boil and simmer for another 2 minutes.
Stir in the basil and remove from heat.
Return your cooked, drained pasta to its empty cooking pan and pour in the sauce.
Mix well and check for seasoning, adding more if necessary.
Serve immediately ....with a little grated parmesan if you like.