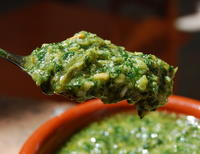 Great Easy Healthy Sauce
Why buy Pesto Sauce in the Supermarket or Store, when it's so easy to make this Pesto Recipe and the results are miles better?
You only need a few ingredients and it just takes a few minutes to prepare.
Really though, this is such a famous Sauce that people are inclined to think it must be too difficult to make at home and so spend years eating an inferior product.
In the olden days when the great sauce was invented in Genoa in the liguria district of Italy, it was made by pounding the ingredients in a pestle and mortar. Nowadays most people use a food processor but some traditional cooks believe that the old method still produces the best results.
It's up to you - either way you will produce something extraordinary.
Superb with Mediterranean grilled meats and Fish and of course you can always - Add it to pasta for:
Fettuccine di Pesto alla Genovese
Ingredients
A handfull of fresh Basil Leaves (about 40)
One Clove of Garlic (crushed with a little coarse salt)
50g. Pinenuts (toasted).
100 ml. of EVOO (extra virgin olive oil).
50g.Parmesan or Pecorino cheese (grated).
Salt and black pepper to taste.
New Feature
: Printer Friendly Recipe Pages for your convenience.
Pesto Recipe Method

Search the Site from here:


Now for the really easy bit.

Just place all the ingredients in a food processor or blender, and, using your pulse function, blend until you acheive the right consistency.


You don't want it to be too smooth, keep a few lumps and bumps in it for added character.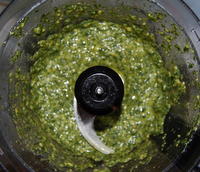 Why not make some fresh Fettuccine using our
fresh pasta recipe
- or cook up some of the dried stuff (about 80 grams per head).

Allow about 75g. of the sauce for each person... and toss it into the hot, freshly cooked pasta.

Then serve with more Parmesan grated on top.