We live near Marbella on Spain's "Costa del Sol" the Sun Coast and we can provide you with Mediterranean recipes, developed here in Spain, Italy France and Greece where we've spent a lot of time touring over the years.
We are now running
Personal Chefs Marbella
, where we offer a one day cooking course....you can learn to make an authentic paella, and other delicious Spanish and Mediterranean food, in a totally relaxed atmosphere.
Locally we also provide a
Personal Chef Service
for anyone who wants to enjoy our recipes in the comfort of their own home.
We used to run restaurants - one in Spain, one in Ireland and one in East Yorkshire in England. David was chef in the restaurants and like a lot of chefs, he's very good at everything but desserts. That's where Pam comes to the fore with her great dessert making and baking skills.
Mediterranean Recipes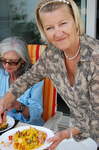 We live by the Mediterranean and look out at it from our bedroom every morning.
Then we spend the rest of the day preparing, cooking, photographing and of course eating our Mediterranean recipes. Normally washed down with some decent local wine. And that's all about us.
Oh - and by the way - every recipe is tested and actually works.
If you have any questions why not leave them in the Facebook comments tab below and we'll answer them as soon as possible.

We hope that you enjoy the recipes on this site as much as we do.








Back from All About us to the Home Page