Lasagne Recipe al Forno
Pam's Superb Mediterranean Lasagne Recipe.
In this Lasagne Bolognese al Forno the combination of pasta sheets and tomato-meat sauce, topped with creamy bechamel, then sprinkled with freshly grated parmesan and breadcrumbs and baked in the oven, makes one of the World's Classic Dishes. We just love it!
Our version is easy to make and a winner every time.
NEW - For the super-healthy version of Easy Lasagna Recipe visit our new website EasErecipes.com
Lasagne Recipe Ingredients for Four People

Makes Four very generous portions or six medium portions.


For the Meat Sauce

1lb. ground beef
1 Large onion finely chopped
2 cloves of garlic mashed
116oz. Can of chopped tomatoes
2ozs. strong tomato paste
2 beef bouillon cubes
1/4 Teaspoon dried chilli powder
1 Lemon - juice and grated zest
1 Glass of red wine
1 Teaspoon each of dried thyme and marjoram
1 Tablespoon of olive oil for frying
15 Sheets About 8ozs of lasagne
2oz. plain flour
2ozs. Butter
1pt. Milk
1/2 A beef bouillon cube
1 Good pinch nutmeg
Freshly grated Parmesan
fresh breadcrumbs
Search the Site from here: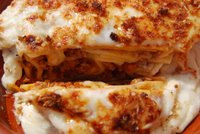 New Feature

: Printer Friendly Recipe Pages for your convenience.

Method
Right - Let's make the Bolognese sauce First...fry the onion in the olive oil in a non stick fry pan - about five minutes until it softens.
Now add the meat - mixing and stirring well to make sure that all the lumps are removed - about a further ten minutes.
When the meat and onion mix is nicely browned turn down the heat and add the garlic - stir for three minutes more.
Now add all the other ingredients except the lemon juice, and let the sauce cook out at a simmer for 45 minutes.
Remove from the heat and stir in the lemon juice
Line an 8" x 12" x 2" lasagne baker or ovenproof casserole with lasagne and spoon on a third of the sauce until evenly covered.
Repeat until you have three layers of pasta and a layer of sauce on top making sure you leave room for the bechamel.
Now cover tightly with foil and bake in the oven for 30 minutes at 400ºf/200ºc.
Meanwhile make the bechamel.
In a small saucepan, melt the butter over medium heat, add the flour and stir well until the mixture is cooked and you have a thick paste. Take off the heat.
Add the stock cube and half the milk bit-by-bit stirring all the while.
Then whisk in the rest of the milk and the nutmeg - keep whisking until you have a smooth creamy sauce. Bring back to the boil stirring all the time until the sauce has thickened. Put to one side.
Now - getting close - take the foil off your Lasagne and spoon on the bechamel - cover with the cheese and crumbs.
Finish under a hot grill until golden brown

.

Ready to serve.
If you would like to make your own pasta check out our great fresh pasta recipe