Chicken Cordon Bleu Recipe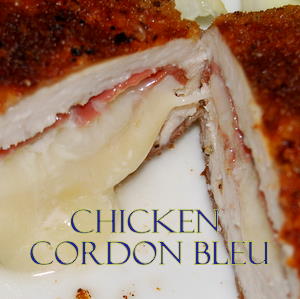 With Mediterranean Variations
This Classic Cordon Bleu Recipe can be made with Veal or Pork Fillet but we'd like you to try the
Chicken Breast
version, because it is freely available and easy to work with.
Also, if not handled properly, it can be quite tasteless and dry, but this way, it is succulent and bursting with flavour.
Find what you're looking for on the Site:
Try the classic way first, just to get into the way of working with stuffing and then you can experiment with your own variations on the theme.
We like to make a garlic butter stuffing whizzed with roasted red peppers - a kind of mediterranean Chicken Kiev.

Or a spoonfull of
ratatouille
makes a great alternative.
It's a bit like a blank canvas - you can personalise it any way you like, but do try the classic way first, you may never want to change it.


Ingredients for Two People

Two good sized chicken breast fillets - skinned.
Two slices of ham, we use jamon serrano but use any ham you like
Four slices of good cheese - again we use the manchego cheese but any well flavoured cheese,such as mature cheddar will do
About 2ozs. of fresh wholemeal breadcrumbs
2ozs. of butter and 2Tbs. of olive oil.
Seasoned flour to coat
One large egg and a little milk for egg wash
Salt and black pepper
Easy.....just mix 2ozs. each of Tomato Ketchup or Spanish "Tomate Frito" and Horseradish sauce until evenly combined..... and its ready to serve.

With a
meat hammer
, bash the Chicken Breast out as thinly as you can.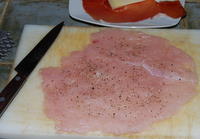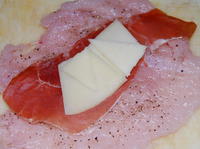 Now - lay half the jamon and cheese on your Chicken escalope.

And then wrap it up into a neat parcel.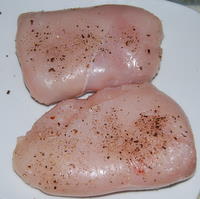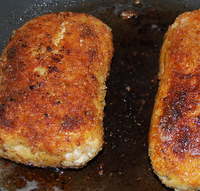 Roll in the Flour - then the egg wash and then the breadcrumbs.

Using a
non stick fry pan
saute your parcels, over medium heat, in the olive oil and butter mixture for 10 - 15 minutes, turning until Golden all over.
Pop them onto a
baking sheet
in a medium oven for 10 minutes more - just to make sure they are cooked.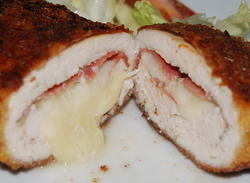 And there you have it - Great Chicken Cordon Bleu Recipe.
Serve it up on warm plates with a dollop of the sauce on the side.
Goes really well with our
baked potato recipe
.
Superbe!
New Feature
: Printer Friendly Recipe Pages for your convenience.