Rich Flavours - Boned and Rolled.
This superb Roast Leg of
Lamb Recipe brings together all the Mediterranean influences in one great dish. Herbs, spices, wine and stock all play a part. The rich red wine gravy shows a marked French influence, while the spicy crust is very North African.
David likes to bone out his own Lamb but you can easily have this done for you by your butcher. If you want something different that's really tasty and very special, yet quite easy to prepare, just follow the simple step-by-step instructions below.
Ingredients for 6 people
You'll need a good Roasting Tray
1 Leg of Lamb of about 3 lbs (boned but not rolled).
6 Sprigs of fresh rosemary or two teaspoons of dried.
4 Cloves of garlic (chopped).
2 Tablespoons of coriander (chopped).
1 Fresh red chilli (chopped).
1 Tablespoon of EVOO (extra virgin olive oil).
Salt.

2 Teaspoons of Coriander seeds.
2 Teaspoons of Cumin Seeds.
1 oz. Pine nuts.
We have a special coffee grinder to whizz up our spices it's much easier!
1/2 a pint/1cup Good Lamb stock.
1/2 a pint/1cup Good red wine.
1 Tablespoon of Balsamic vinegar.
1 Tablespoon of honey.
1 heaped teaspoon of Cornflour (cornstarch).
A little cold water.
New Feature
: Printer Friendly Recipe Pages for your convenience.
Roast Leg of Lamb Method.
Spread out your boned leg of Lamb.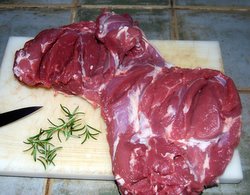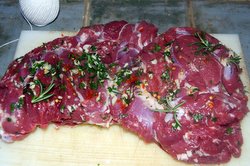 Now rub with Rosemary, Garlic, Fresh Coriander, Chilli and Salt.
Roll it up neatly and tie with string.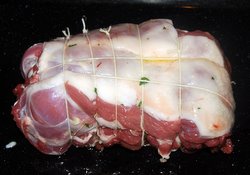 Next dry roast your spices, salt and pine nuts in a pan, and whizz them up in a coffee grinder.
Roll your lamb in the olive oil and then the spice mixture.
Place in roasting tray.
Now roast in a medium-hot oven at 350f./175c. for 45 minutes, turning once.
Times may vary from oven to oven.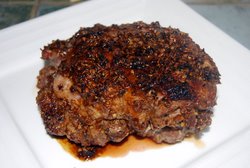 Perfect Roast Leg of Lamb - leave for ten minutes to rest.
Meanwhile make the red wine gravy.
Just add the stock and red wine and reduce to half in a pan.
Add the balsamic and honey.
Finally thicken with the cornflour (slaked in a little cold water).
Cut open your Lamb.
Now serve with a few Vichy Carrots.