Maxies Moroccan stuffed baked lamb
by maxine
(Estepona Spain)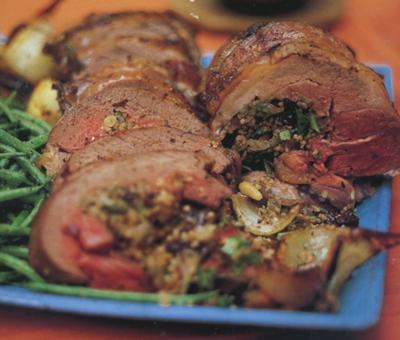 Ingredients:

2k boned leg of lamb
2 onion cut into wedges
3 tbs olive oil
juice of 2 lemons

Stuffing:

250 g. couscous
water for above according to packet
2 teaspoons ground coriander
2 teaspoons cumin
1 teaspoon cinnamon
3 tbs olive oil
100 g. pine nuts toasted
100 g. flaked almonds toasted
1 large onion finely chopped
4 cloves garlic
1 teaspoon dried mint
4 tbs chopped fresh coriander
100 g. raisinsmaldon salt and pepper

First make the stuffing, I usually just heat the oil and chuck in the onion, when it is cooked but not browned add the garlic and cook further. Stir in the spices, cook for 2 minutes then add nuts, raisins and fresh coriander, season to taste. Add the couscous and mixed well and heat it all through. this stops the couscous from getting sticky and it is great as the side dish to the lamb, well what is left after stuffing the leg.

Now open the leg out skin side down, season inside with pepper and spread stuffing over lamb. tuck in flaps at end if you can, if not - no problem Roll lamb into neat sausage and tie with string.

place chopped onion wedges into base of pan and place lamb on top.
Roast at 250C, full heat, for 15 minutes, then turn down to 220C gas 7, for a further 25/30 minutes when it is still pink, but cook to your liking, take out of the oven and leave to stand for at least 15 minutes before carving.
Serve with green beans couscous and or roast potatoes with rosemary and garlic added to them.

This dish also serves well for a buffet, i make the juices from the lamb with Harissa and lamb oxo, to make a good sauce, and keep it hot in a sort of electric paella dish.


everyone loves it!!!