Gillians Yummy Quick and Easy Chilli Chicken
by Gillian
(Manchester)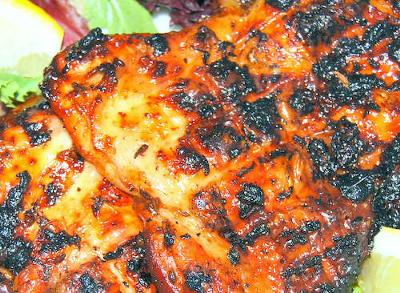 Yummy Chilli Chicken
This recipe was given to me by my friend Jenny…we were invited round to their house for a barbecue, and this was one of the things they cooked. I thought it was delicious, and she told me that she had just made it up that day. ( She is very clever! ) Its unbelievably easy.
You don't have to BBQ , I have done it on the cooker hob in a griddle or frying pan. Once you taste it you will want to make it again and again!!!!

Chilli Chicken
Ingredients for 4 people

1 medium sized chicken in quarters
Marinade
4 tablesp sweet chilli sauce (You can find this in any chinese supermarket )
1 tablesp tomato ketchup
1 fresh or dried chilli chopped up finely
2 cloves garlic crushed
1 teaspoon ground coriander
1 teaspoon ground cumin
A good pinch of salt

All you need to do is mix all the marinade ingredients together.
Pour the marinade into a dish or bowl and put in the chicken quarters, making sure that they are well covered with the mixture and leave for at least an hour…more time if you can. The longer the more flavour soaks into the chicken
Then simply cook on the BBQ or in a griddle or frying pan on medium heat for approx 20 minutes, until cooked through, turning at regular intervals.
Serve with a salad and baked potato…..and a nice glass of wine ! Told you it was easy.
Hope you enjoy!



Click here to read or post comments
Join in and write your own page! It's easy to do. How? Simply click here to return to Your Best Mediterranean Chicken Recipes.