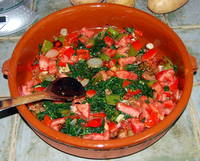 First of all arrange your tomatoes and wilted spinach in the bottom of the casserole.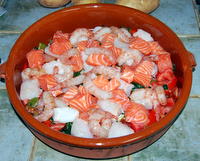 Then arrange your fish - first shelling the prawns.
Leave that to one side and, in a pan, pour a good amount of extra virgin olive oil, and fry the sliced onion with the sugar on a medium heat. (the sugar is there to help the onion to caramalize).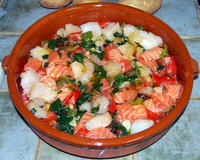 Then add the peppers and sprinkle some salt and the crushed chillis.
Lower the heat and add the garlic.
Make sure everything is cooked and then add to your casserole.
Add the lemon juice and zest and the basil.
Now you're ready for the potato topping. First of all place your Prawns at strategic places around the edge of the casserole, as if they're gazing up to the stars.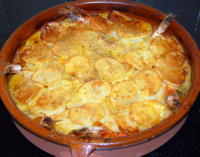 Then arrange the potatoes all around with a sprinkling of salt and a good drizzle of
olive oil between each layer. Grind plenty of Black Pepper on top.
Cover with Aluminium foil and Cook in a hot oven - 200ºc./400ºf. for an hour.
Now take off the foil and sprinkle your grated Parmesanon top with some more EVOO.
Return to the oven and bake for a further 20 minutes until the top is crisp and Golden.
Now serve it up with plenty of chilled white wine.

David tucks in to the great Stargazy Fish Pie.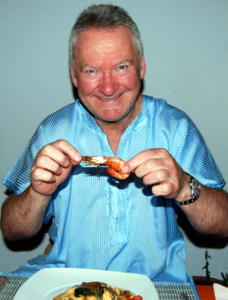 Just click on the Photograph to find out all about us.

Back to Fish Recipes
|
Back from Fish Pie to the Homepage