Devin's Favorite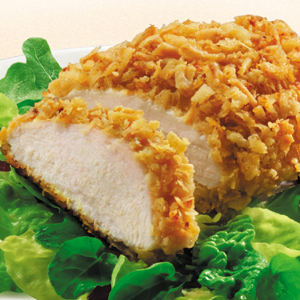 My son, 8 yrs old, is as a picky eater as I am. But I found one dish that him and I both love. The recipe is on the outside of the large can of Durkee Friend Onions. This dish is so good, I know it is not my own, but I would recommend anyone to try it. VERY TASTY

I take thin cut chicken breast and pound with a meat tenderizer to make it more tender. I dip it into beaten egg. I take the durkee fried onions and crush them in a zip lock bag with a rolling pin. Then I dip the chicken in the egg and cover the dipped chicken with the crushed durkee fried onions. I make sure the whole piece is covered. I bake the chicken on an oil sprayed baking sheet at 350 degrees for about 15 to 20 minutes, turning over about half way through cooking.

The chicken comes out very crispy and very delicious. My son hates onions but loves this chicken.

I serve it with corn bread muffins made from the Jiffy corn bread mix with about half a cup of sugar added to the recipe. And with French style cut green beans also served with the durke fried onions on top.

Even though this is not my recipe, I hope it can still be posted.
Click here to read or post comments
Join in and write your own page! It's easy to do. How? Simply click here to return to Your Best Mediterranean Chicken Recipes.