Escabeche of Salmon Recipe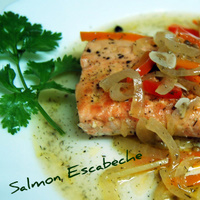 Escabeche is a Spanish dish of marinated fish or meat with vinegar, wine, spices and vegetables.
Originally brought to Spain by the Moors, there are now versions all around the Mediterranean. "Escabecio" in Italy, "Savoro" in Greece and "Scabetche" in North Africa.
We're using Salmon for our version but you could use Sardines, Mackerel, or Tuna. You can also use meat, such as Chicken, Rabbit and game birds.
It's really a kind of pickle and will keep for several weeks covered in the fridge.
Delicious cold as a Summer lunch with salad, you can also eat it warm as a light supper.
Eat well - feel full and satisfied and lose those excess pounds without undue effort with this great Mediterranean Diet recipe.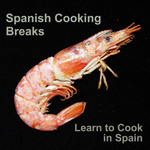 New!

We're proud to announce our:


Spanish Cooking Courses

.




Come and stay with us in a great garden apartment on Spain's sunny Mediterranean coast.




<<<<

Click on the photo to find out more.




Learn to cook and Experience the real Spain.






Search the Site from here:





Mediterranean Diet for Health and Fabulous Vegetable Flavours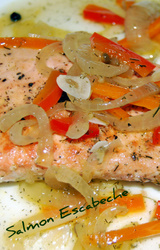 Ingredients for Two People
900g./2lbs. of Salmon fillets
4 Tbls. of good olive oil
2 tsps. of salt
3 tsps. of Soft brown sugar
1/2 a pint/10fl.ozs. Of dry white wine
1/2 a pint/10fl.ozs. Of white wine vinegar
1 Medium onion sliced
3 cloves of garlic sliced
1 Carrot cut in Julienne (matchsticks)
1 Small red bell pepper in Julienne
2 Star Anise
12 Black peppercorns
12 Coriander seeds
2 Cloves
Salt and black pepper to season






New Feature: Printer Friendly Recipe Pages for your convenience.


Salmon Escabeche Recipe Method
OK - season your salmon fillets lightly with salt and freshly ground black pepper and brown them in the olive oil and leave to one side.
Now add the rest of the ingredients - minus the wine, vinegar, sugar and salt - to the pan and fry until golden.

Add the wine, vinegar, salt and sugar and boil until reduced by half.
Arrange the Salmon fillets in a shallow dish and pour over the marinade, making sure that the fish is covered with the liquid.
Cover with cling film and let it cool.
Refrigerate overnight and you are ready to eat!
Eat this and other great food, relaxing under the sun, with us in
Spain
.
We have
Special Offers
on our Spanish Cooking Breaks site for single people, couples and groups. No single supplement!