Boneless Chicken Recipe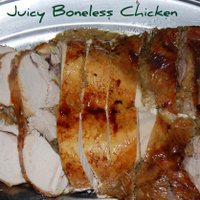 We love this juicy, boneless chicken recipe with it's delicious light herb stuffing. It takes a little effort, but you will be delighted with the results.
There is something quite theatrical when you bring it to the table. It looks like a whole roast normal bird, but the carving is a breeze. It cuts into neat stuffed slices that are perfectly cooked. No messy bones (they have been used for gravy or soup stock)
Another great Mediterranean Diet recipe.
Check out David's video below on how to do the boning....it's a lot easier than you think. Give it a try you'll love it too.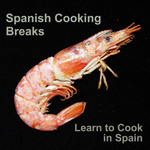 New!

We're proud to announce our:


Spanish Cooking Courses

.




Come and stay with us in a great garden apartment on Spain's sunny Mediterranean coast.




<<<<

Click on the photo to find out more.




Learn to cook and Experience the real Spain.






Search the Site from here:





Boneless Chicken Recipe with our own herb stuffing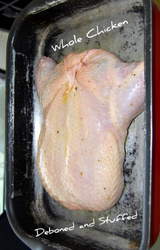 Boneless Chicken Recipe Ingredients
1 x 1 1/2kg / 3 1/2lb chicken deboned ( See David's video below )
For the stuffing:
1 medium onion, finely chopped
2 fat cloves of garlic, crushed
Extra virgin olive oil
3oz fresh breadcrumbs
1 tablespoon finely chopped fresh rosemary sprigs
1 tablespoon finely chopped fresh thyme
Red wine to moisten
Salt and black pepper to taste
For the gravy:
100ml red wine
400ml home made stock (made from the chicken bones, with a small onion quartered, a large carrot, a stick of celery, 2 cloves of garlic, and a handfull of parsley all roughly chopped, a bouquet garni, 4 black peppercorns and a good pinch of salt.
Put into a pan and covered with a litre of water and allowed to simmer for a good hour with the lid on.
Then strain through a seive discarding all of the solids)
Or use a good quality bought stock or a stock cube dissolved in 1/2 litre boiling water.
A little Cornflour/cornstarch slaked with some water to thicken.
New Feature

: Printer Friendly Recipe Pages for your convenience.


Watch this guide to deboning a chicken or have the butcher do it for you!



Boneless Chicken Recipe Method
First make your stuffing by frying the onion in a little olive oil over a medium/low heat until soft, golden and caramelised, about 8 minutes.
Add the garlic and cook for a further 2 minutes.
Pile in the breadcrumbs and the herbs, and mix well.
Add sufficient red wine to just moisten the stuffing, so that it is still quite firm. (Usually about 2 - 3 tablespoons) Season to taste.
Stir over the heat until everything is well combined.
Put to one side to cool.
Meanwhile lay the deboned chicken skin side down on a chopping board.
Pile on the stuffing and press well down with a wooden spoon into the flesh.
Fold each side over (left to right and right to left) to just overlap each other.
Take an 8" skewer and thread it through the two edges to seal them.
Turn the chicken over so that the breast is on the top and the seal is on the bottom. Close the neck cavity with a wooden tooth pick or cocktail stick. (See photo above)
Place in a roasting tin that has been greased with a tablespoon of olive oil.
Smooth a little more olive oil over the skin of the bird and sprinkle with a little salt and ground black pepper.
Place onto the middle shelf of a pre heated oven at 180ºc/350ºf or 160ºc/325ºf in a fan oven.
Roast until golden brown approximately 45-60 minutes. Use a meat thermometer to make sure it is cooked.
Remove from the oven and place on a serving platter, and allow to stand covered.
Take the roasting tin and remove any excess oil from the meat juices.
Put it on to medium heat and add the red wine and deglaze by scraping the juices in the tin with a wooden spoon. Then add the stock and bring to the boil.
Allow to boil vigourously for a minute and then turn down the heat and add the cornflour / cornstarch mix, stirring well, until the gravy is the consistency that you like, and simmer for 2 minutes.
Adjust the seasoning. Pour into a gravy boat.
Serve the chicken and slice it at the table for best effect. It really is so easy to carve. Then serve the delicious gravy and your choice of vegetables. You and your guests will love it!
Eat this boneless chicken recipe and other great food, relaxing under the sun, with us in Spain.
We have
Special Offers
on our Spanish Cooking Breaks site for single people, couples and groups. No single supplement!