Mediterranean Anchovy Recipe
This simple anchovy recipe uses only the freshest of fresh anchovies - straight from the market.
"Boquerones" as they are known here in Spain are a staple food of the Mediterranean. They can be found everywhere around Spain's coast, specially on the southern shores, where every beach bar "Chiringuito" and Tapas restaurant serves a version.
The thing is that people seem to think there's some mystery about the preparation - so we aim to show you that it's quick and easy and somehow tastes far better when you cook them yourself at home.
Another great Mediterranean Diet recipe.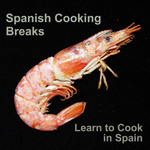 New!

We're proud to announce our:


Spanish Cooking Courses

.




Come and stay with us in a great garden apartment on Spain's sunny Mediterranean coast.




<<<<

Click on the photo to find out more.




Learn to cook and Experience the real Spain.






Search the Site from here: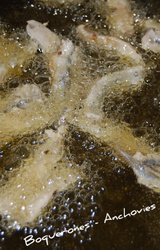 Anchovy Recipe Ingredients


For 2 people

About 600g. 1-1/2lb. of fresh anchovies/boquerones
Plain white flour that has been seasoned with a little salt and black pepper for coating the fish.
Olive oil for frying, and some kitchen paper.
Plenty of lemon wedges for squeezing over the cooked fish
New Feature

: Printer Friendly Recipe Pages for your convenience.


Anchovy Recipe Method


You could be eating this with us in sunny Spain.





Wash the anchovies/boquerones in a sink with plenty of cold running water and drain them well.
Filleting the fish is easy, using a small sharp knife cut around the head of the fish just below the gill. Then holding the fish in one hand, use the other hand to ease the head away from body, making sure that the backbone comes away as well. Keep pulling until you get to the tail (you will find that all of the guts will come away as well) then either pull or cut off with a knife and discard. You might make a bit of a mess of the first 2 or 3, but you will soon get the hang of it.....it's a lot simpler than it sounds.
Repeat this, laying the fillets flat on a large plate or tray.
Once finished wash well again with cold water, drain and pat dry with kitchen roll.
Next coat each anchovy/boquerone evenly with the seasoned flour.
Lay them on a large floured tray...make sure that each fillet is seperated and not touching another (see photo above).
Have enough olive oil in a deepish pan for deep fat frying, or you could use a deep fat fryer. The oil needs to be approximately 180ºc/360ºf.
Individually drop each fish into the hot oil, only small batches at a time. Fry each batch for about 1 to 1 1/2 minutes until golden brown.
Remove and place on kitchen paper to drain, keeping warm in a low oven.
Repeat this until all the fish is cooked
Transfer to a warm serving plate and serve with lemon wedges and a crisp salad. Delicious!
You could also serve these with garlic mayonnaise or sauce tartare
Want to know more about fish filleting and preparation? Join one of our courses at:
Spanish Cooking Breaks
. You could be eating this and other great food relaxing in the sunshine. We have
Special Offers
for single people, couples and groups. No single supplement!